Buy a Foreclosure
The Trustee's Sale
The auctioneer announces an opening bid and asks who wishes to qualify to bid before conducting the sale. To qualify the auctioneer reviews your funds (cash or cashier's check) to verify they are sufficient to cover any bid you make. If using a cashier's check make it payable to yourself. As the successful bidder you will endorse checks to the Trustee. It is common to have large checks to cover the expected bid and smaller checks for bid increases. If you are bidding on more than one property, have separate checks for each successful bid.
Bidding
The auctioneer will announce the opening bid provided by the foreclosing lender and ask if there are any bids over that amount. You must tell the auctioneer the amount of your bid. Your bid may be a penny over the opening bid. If other bidders are interested bids will go up usually in one hundred dollar increments. Know the maximum you are willing to bid and your available funds. Your bid may be canceled by a higher bid or a postponement of the sale. The property is sold to the last and highest bidder.
The Successful High Bid
As a successful bidder, the auctioneer will instruct you to endorse your checks to the Trustee. Usually after all sales are complete, the auctioneer will write you a receipt, including your contact information and ask how title is to be held. The Trustee may record the Trustee's Deed or send you an unrecorded Deed and any excess funds from your checks. Sales are sometimes invalidated for legal reasons and if that is the case, you funds are returned. Expect to receive your Trustee's Deed and any excess funds within 10 business days from the sale.
Establish position of lien you are bidding on. Avoid surprises.
Senior trust deeds may or may not be assumable. VA/FHA may be assumable; others are at the discretion of the lender.
Be sure you know what you are buying: Fee simple or lease-hold.
Be sure you are bidding on the right property. Do not rely on the street address.
Check all parties on title against signatures appearing on the trust deed. You may end up buying a partial interest.
Get a good evaluation report on the property. Guessing can be expensive.
Check for hidden damage. Sinking, sliding, etc., can be a forerunner to condemnation.
Federal and state tax liens, if senior, will not be eliminated. Federal tax liens, if junior, have 120 days to redeem.
Some Lenders may not refinance property purchased at a foreclosure auction within a year after the sale. Avoid financing issues by checking with subsequent lenders beforehand.
Association liens from condominiums, etc., may or may not stay. Read CC&Rs or seek legal opinion.
Judgments less then 10 years old (senior to the lien being foreclosed) can go with the property and may effect plans to sell.
Old deeds of trust look good to bid on, but check for a subordination agreement.
Vacant property is worth more then occupied property. Evictions can cost time and money.
Check for possible rent control.
Remember you are purchasing the property "as is", "where is". Do your homework.
Download and print PDF list
Starting a foreclosure is as easy as
Click on the "Get Started Now" button below.
Complete the secure online form, or download a printable version.
Submit the form securely via the website, e-mail, fax, or mail it to us.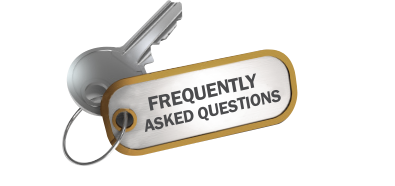 What happens at the sale?
We announce the opening bid and ask the bidders to qualify by identifying themselves and showing the Auctioneer their cash and/or cashier's checks in an amount sufficient to bid. All American Foreclosure Service conducts the sale and the successful bid is the highest bid over the opening bid. If there are other bidders, the highest bidder gains ownership of the property. We then accept money, obtain personal information and give the successful bidder a receipt. The Trustee's Deed Upon Sale is prepared and delivered to them by the Trustee within a few days of the sale. The lender receives their money and an accounting as well.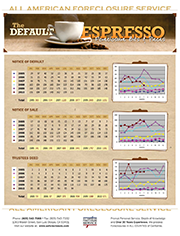 2009 To 2014 Foreclosure Statistics for San Luis Obispo County, California
This document details the number of Notice of Defaults, Notice of Sales, and Trustee's Deeds filed in San Luis Obispo County, CA from January 2009 through 2014. For review of data prior to 2009 please contact our office.