Start a Forclosure...
Choose your
Form below
Secure Web based form or downloadable PDF file of Declaration Of Default & Demand For Sale Form.
Fill out
the form
Fill all required fields digitally or you can print it and fill the form out by hand.
Scan & email
the Documents
Declaration form along with a copy of Promissory Note & recorded Trust Deed. You may also fax or mail us.
Declaration Of Default and Demand For Sale Form
For an Estimate of Foreclosure Fees and Expenses Call 805-543-7088 or to Email Us, click here.
Does your loan require compliance with Civil Code Section 2923.5?
This legislation compels specific contact with the borrower and a waiting period.
Your loan requires compliance if it is a First Deed of Trust AND is residential owner occupied 1-4 units.
To review and print our Compliance Package, click here. Contact us for further information.
Once we are provided with the above information we will start your foreclosure process the SAME DAY. All American Foreclosure Service performs all necessary legal and administrative duties beginning with the filing of the Notice of Default through Conducting the Sale.
Once you have provided us with all the information, you are required to do nothing else. Our staff has been in the real estate and foreclosure business for over 30 years and can offer counseling throughout the entire process.
Subject to California law, if the loan or your payments are not paid within 3 months after the Notice of Default is recorded, we will set a date for a Trustee's Sale. Approximately three weeks later the Trustee's Sale is held and the successful bidder funds are delivered to you, the beneficiary. If there are no bidders at the Trustee's Sale, we transfer ownership of the property to you by recording a Trustee's Deed Upon Sale.
All American Foreclosure Service does not stop at the Trustee's Sale. Should the property not be purchased by a third party at the Trustee's Sale, All American Foreclosure Service will provide seamless service to help you liquidate the property. Please contact us for more details.
Starting a foreclosure is as easy as
Click on the "Get Started Now" button below.
Complete the secure online form, or download a printable version.
Submit the form securely via the website, e-mail, fax, or mail it to us.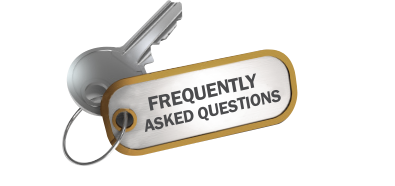 What if the Borrower (Trustor) calls us to pay off or bring the loan current?
You should direct all of their calls to our office for the exact amount of payoff or reinstatement. We forward this payoff to you for your review and approval. You should not accept any money from the Trustor once the foreclosure is started. In accepting money directly, you run the risk of invalidating the foreclosure and you may have to start the process over by recording a new Notice of Default and waiting out the three month reinstatement period.
R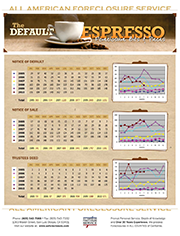 2009 To 2014 Foreclosure Statistics for San Luis Obispo County, California
This document details the number of Notice of Defaults, Notice of Sales, and Trustee's Deeds filed in San Luis Obispo County, CA from January 2009 through 2014. For review of data prior to 2009 please contact our office.